Electronic Tracking Systems
VLMS - Vehicle License Management System
e-Tracking of Vehicle License Registration & Renewal
STORE & RETRIEVE VEHICLE INFORMATION ELECTRONICALLY
NATIONWIDE! INTERCONNECTED! INSTANT!
---
VEHICLE LICENSING INTRANET
Global Remote Data Sharing Platform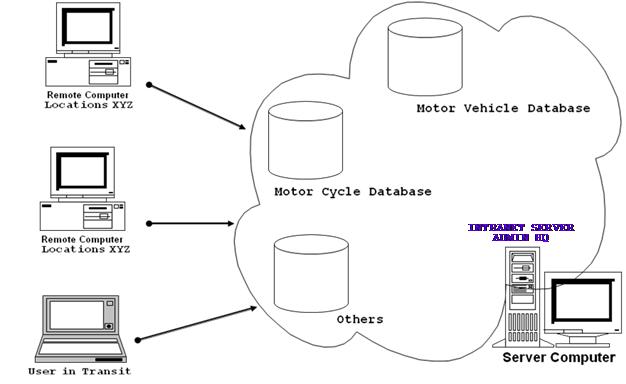 Data Upload

Step 1 - Data is assembled and paper forms are filled at the Council levels or units.

Step 2 - Connectivity is established with the Intranet Server at DRTS HQ and access is granted to the specific system module to add a new record or update an existing record.

Step 3 - The Server grants access to the modules. These are components restricted according to Authorization or Ownership.

Step 4 - The Vehicle information is stored at location in the server, where authorized persons can look-up, save and print reports as necessary.

Data Lookup

Step 1 - At your computer/Laptop, from any where in the world, click the configured modem dialup utility to connect to the server. You incur only the regular telephone bill.

Step 2 - Use your Internet Browser, such as Internet Explorer, to seek out the Intranet Home Page in the server by opening a pre-configured protocol.

Step 3 - Once in the Intranet website, you may require authentication to access each of the database menus. Just browse as if you are on the Internet to lookup, print or download data as necessary.
---

LICENSING DATABASE SOFTWARE
Integrating MySQL, HTML, PHP Technologies

Logon/Logoff Panel

Upload/Retrieve Data

Enter Data

You can enter data by locations, customized to suit your application:

» Community
» City
» Zone
» State/Province
» Country-Wide

Chose a Module

» Register Motor Vehicle
» Register Motor Cycle
» Annual Payments checks the renewal status of any vehicle
» Reports – View and print reports on any vehicle
» Users – Sets Users' rights and access permission
» Exit – Logs off the User
Manage Data

Key Plate Number to Edit
Search Record to Edit
View Records by Item
Delete Record by Item
View Next/Previous
Add New Record
Change Existing Record
Save/Update Record
Jump to Report Menu
Close Form to return
IMPLEMENTATION & DELIVERABLES
» Intranet Design & Layout
» Hardware & Software Components
» Design and Deployment of Vehicle License Management System (VLMS)
» Installation of Hardware, Cabling, Structuring and Routing
» Testing of all linked Components and Cables.
» Installation and Testing of Software Applications
» Implementation and Testing of Security and Firewall Measures
» Implementation of Network Administration to provide Rights, Privileges and Permissions
» Implementation of Intranet E-mail Protocols
» Implementation of Data Backup Features for the Intranet
» Creation of License Plate Registration and Renewal Forms, Tables, Reports and Sheets
» Implementation of Online/Intranet Work Process
---
OTHER USES
» e-Returns: Daily/Weekly/Monthly/Quarterly/Annually
» Accounting Returns
» Motor Vehicle Returns – Licensing, Renewals, etc.
» Legal Returns
» Logistics Returns
» Nominal Roll Returns
» Operations Returns
» Payroll Returns
» Vehicle Inspection Returns – Violations, Arrests, etc.
» Training Returns, etc.